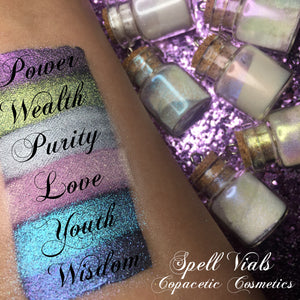 Power - Ultra shimmery purple that will bring your enemys to their knees. 
 Wealth - Ultra shimmery yellow green that will call prosperity down upon you. 
 Purity - A pure white shimmer that will reset you with a clean slate.
Love - An enticing pink shimmer that will capture the heart of anyone who dares to look upon it. 
Youth - A ultra shimmery sea glass blue that will rewind your clock and full you with energy. 
 Wisdom - A ultra shimmery mix of purple, blue and white that is the perfect trifecta for bringing you otherworldly knowledge 
Spell Vials can be used as an eyeshadow, highlighter or as are beautiful topper that turn your lipsticks into brand new mystical shades!
1.5g
 * Sold by weight not volume so each shade may vary in fullness
** Pictured over liquid lipstick Vile