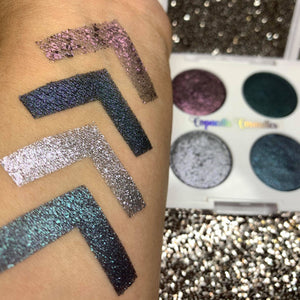 Originally in the October 2020 Convert Box, This palette is inspired by haunted locations around the world.
Borley Rectory - A burgundy pressed flakie
Eastern State. Penn - A green base with purple shimmer
Stanley Hotel - A true silver with purple aurora 
Franklin Castle - A deep blue with blue shimmer
~~~~~~~~~~~~~~~~~~~~~~~~~~~~~~~~~~~~~~~
Borley Rectory
 - 
Calcium Sodium Borosilicate, Titanium Dioxide (77891), Tin Oxide (77861), Mica (77019), Tin Oxide (778161), Iron Oxide (77491), I
sopropyl Myristate, Dimethicone, Bis-Vinyl Dimethicone/Dimethicone Copolymer, Isopropyl Alcohol 91%.
Eastern State. Penn - Mica (77019), Titanium Dioxide (77891), Tin Oxide (77861), Iron Oxide (77499), Iron Oxide (77491), Silica, Isopropyl Myristate, Dimethicone, Bis-Vinyl Dimethicone/Dimethicone Copolymer, Isopropyl Alcohol 91%
Stanley Hotel - Mica (77019), Titanium Dioxide (77891), Tin Oxide (77861), Iron Oxide (77499), Iron Oxide (77491), Silica, Isopropyl Myristate, Dimethicone, Bis-Vinyl Dimethicone/Dimethicone Copolymer, Isopropyl Alcohol 91%
Franklin Castle - Mica (77019), Titanium Dioxide (77891), Tin Oxide (77861), Aluminum (77000), Iron Oxide (77499), Iron Oxide (77491), Silica, Isopropyl Myristate, Dimethicone, Bis-Vinyl Dimethicone/Dimethicone Copolymer, Isopropyl Alcohol 91%