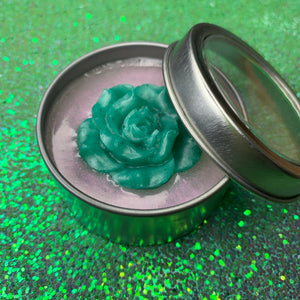 A refreshing bamboo scented flower molded solid brush soap. The flower composed of Green mica toned soap surrounded by a pink/red sparkly clear glycerin soap.


How to use: 
Wet makeup brush or sponge, swirl brush head / sponge onto the soap in a circular motion, message soap into Bristles / sponge and then rinse under warm water. (Repeat if needed)
Ingredients: Water, Sucrose, Sodium Laurate, Sorbitol, Stearic Acid, Aloe Vera Leaf Extract, Pentasodium Pentetate, Tetrasodium Etidronate, Tocopherol, Glycerin, Prop. Glycol, Coconut Oil, Triethanolamine, Sodium Cocoate, Sodium Stearate, Titanium Dioxide, Shea Butter, Sodium Laureth Sulfate, Purified Water, Mica, Fragrance Oil.